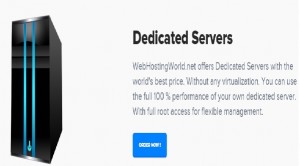 A dedicated server offers greater security than shared hosting because there's no chance for malware attacks from third parties. It also allows you to choose an OS (operating systems) such as Linux, Windows Server, BSD Unix, Solaris, AIX, HP-UX, Tru64 UNIX, SCO OpenServer, With our Dedicated Servers, we offer clients full control over their websites.
They get access to everything they need to manage their sites from one place. We provide them with 24/7 support so there's no downtime for maintenance. Our plans include unlimited bandwidth, disk space, email accounts, databases, and domains. Clients don't pay extra fees for these services because they're included in every plan.
When it comes to the price of a Dedicated Servers, you can expect to spend anywhere between $50-$300 per month depending on your needs. If you want to host multiple websites or have a large number of users, then you may be looking at spending more than $300 per month.
We recommend that if you're just beginning and aren't sure which hosting package would be best for you, you begin with our shared hosting service. If you're not sure whether you'd like to dive into entrepreneurship full time but don't want to spend a lot of cash up front, this might be for you.
-cPanel/WHM/PLESK
-Root SSH/RDP access
-UNLIMITED Bandwidth
-100mbps Network Connectivity
-Software RAID 1