Your WordPress.com blog address is what people use to access your blog. An example of a WordPress.com blog address is example.wordpress.com. This document explains how you can change the example part of the address to something else.
1. Log in to WordPress admin panel Settings > General.
2. Update WordPress Address (URL) line and Site Address (URL) lines and save the changes: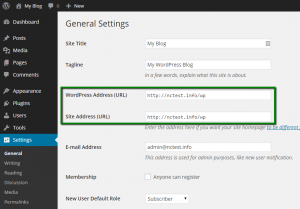 3. You will also need to re-generate the permalinks to make sure they have the new URL in  Settings> Permalinks.
So if you had Post name, you need to switch to "Default" for instance, save the changes and then revert everything back: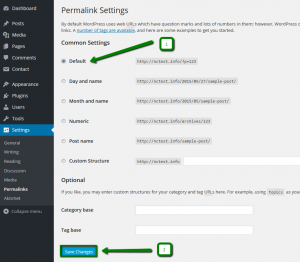 If  Dashboard  is not opening or not letting you in for some reason, you may perform the changes directly in MySQL database.
The instruction below will guide you on how to change WordPress website URL usingphpMyAdmin in cPanel.
1. Login to your cPanel and navigate to phpMyAdmin menu:

2. Choose the database which is being used for your WordPress blog and click on it.
If you are not sure what exactly database you need, check it in wp-config.php file which is located in the document root – in our case it is /public_html/wp/:

3. Click on wp-options table and edit siteurl and home fields: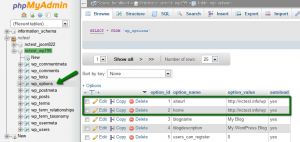 That's it!