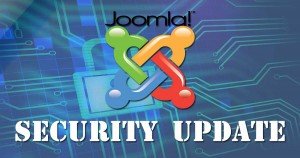 For users of the Joomla CMS, WebHostingWorld wants to make you aware of a security vulnerability – one that can be easily exploited and is already causing problems – so make sure you protect yourself & your business asap. If you are using Joomla, you have to update it immediately.
The Joomla security team have now released a new version of Joomla, which will patch a critical remote command execution vulnerability that affects all versions from 1.5 to 3.4.
Joomla! 3.4.6 is now available – this is a security release for the 3.x series of Joomla which addresses the critical security vulnerability and 4 low level security vulnerabilities. We strongly recommend that you update your sites immediately.
For any Joomla users, who are using the old (unsupported) versions 1.5.x and 2.5.x, you need to apply the updates from here. For an explanation on how to apply them, see this article from OSTraining.
Attention Joomla users: update to the latest version ASAP!
Joomla is a fantastic free and open-source content management system (CMS) for publishing web content – and as long as you are using the latest version of it, then you can continue to use it with complete confidence.