You may find yourself often fighting the frustration of having your business emails getting classified as spam in your customer email boxes.
The fact is that about 80-90% of All email on the internet is spam. In spite of this, businesses anticipate increasing the number of email campaigns on the web.
Mail servers use many different techniques to filter spam. Spammers constantly adapt to these anti-spam measures, so administrators have to
continually modify server configurations to help reduce spam. As a result, there is no single thing you can do to ensure that all of your
outgoing messages are delivered successfully.
Nevertheless, there are still some things you can do to help improve the odds of successful delivery. Try the following techniques:
Check to make sure that your Email Authentication is enabled. This helps stop spam coming from your email address (even if you're not
sending any that you know of). One of the common tactics by spammers out there is to spoof email coming from your domain. This causes you
to get blacklisted even though you're not sending emails.
Create SPF (Sender Policy Framework) records and enable DKIM (DomainKeys Identified Mail).
Email Authentication is an effective set of anti-spoofing and anti-spamming tools available in cPanel:

It consists of two major components – SPF and DKIM records setup. In order to enable ones, follow the instructions below:
1.Click on Enable and the records will be added to the DNS zone of all hosted domains automatically: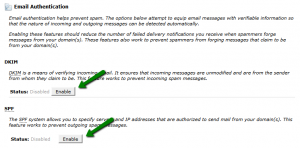 NOTE: you may see the following warning about authoritative nameservers right after enabling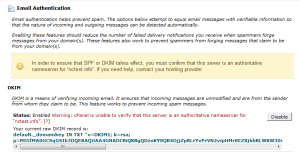 2. Allow some time to pass for the records to propagate and refresh the page afterwards.
The warnings should go away and DNS checks will be passed:

SPF record
The main idea of SPF record is that an owner of domain name publishes the information about IP addresses that are authorized to send mail from this domain name. The receiving server compares the information in the envelope sender address with the information published by domain name owner. If these details match then e-mail is delivered.
DKIM Record
DKIM (DomainKeys Identified Mail) is another way of e-mail authentication. This method uses information about domain which is published by the domain owner. That information allows receiving server to verify if the e-mail message was sent by legal owner of that domain name.
Other networks mark my email as spam
If email networks, such as Google, Yahoo, or Outlook, mark your server's email as SPAM, you must identify the reason and resolve the problem. If you have recently resolved an issue with spam on your server or you received a new IP address which previous sent spam, you will need to notify the remote network. You should take the time to review the bulk sender policy of large email networks.
Find the contact links for popular email networks below:
If possible, do not send HTML-only messages (send plain-text messages instead, or multi-part MIME messages with a text/plain component).
If you do send HTML-only messages, make sure they use valid HTML markup.
Avoid using lots of exclamation marks (!) or dollar signs ($) in the message subject.
Send your customers a personal email message requesting that they white-list your domain, so that your business emails don't get filtered
into Spam. In this, I'm referring to a "personal" email as one that doesn't include your marketing links or business advertisements or
enhancements that may flag the email as something other than a personal email.
Pay attention to your links in your email
Spam filters check the URLS that you are linking to. If you link to a domain that has a poor reputation you will be penalized. Additionally you
should avoid linking to URL's that contain folders with 1-2 characters (such as domain.com/e/something/ or domain.com/es/) as some filters
will count that as a negative thing.
Remove inactive contacts
Delete your old & inactive contacts. Contact engagement plays a big role in email delivery. By focusing on your active contacts you can
increase your overall delivery.