You'll probably want some sort of control panel. You can, if you wish, run a web server and web sites without a control panel. All administration can be performed using command line, scripts and connection tools such as SSH. But, even those of us technically minded enough to do that usually prefer the efficiency and simplicity of a good control panel. For many functions, a control panel is faster and easier than more technical methods. If you're reselling hosting accounts to clients, most of them will want a control panel.
When evaluating control panels, one of your considerations should be the size of its user base. While popularity doesn't always equal quality — McDonald's sells millions of burgers, but it's not fine food — it's helpful for a control panel.
Popularity comes in handy when you do a web search for another explanation of some feature, or for assistance with something you're trying to accomplish. Having installed some good but unpopular software tools on my PC, that last point is significant. It was frustrating trying to find on-line discussions about uses similar to mine. A high number of users also means that any issues with a new release are likely to be reported quickly so they can be remedied.
cPanel is the world's most widely used web hosting control panel, with about 70% market share in the U.S. That results in a wide selection of web hosts, and a wealth of tutorials and forums on the Internet for peer-to-peer assistance.
While cPanel is used to administer a single web site, for VPS accounts it comes with WHM (Web Host Manager) to manage a server and reseller environment. WHM allows you to configure your server and manage multiple client hosting accounts with ease.
cPanel/WHM provides graphical, web-based screens to handle both simple and complex tasks. WHM enables you to easily create client hosting accounts, create hosting packages with allocations of bandwidth and disk space, and set the features available to the shared hosting accounts. WHM on a VPS allows you not only to create shared hosting accounts, as with a reseller account, but also to create and sell reseller accounts.
WHM allows you to configure the VPS as you would a dedicated server. Setting a server hostname, assigning IP addresses and nameservers, and configuring the mail server are all easily handled through the WHM interface.
Your choice of control panel for your VPS won't mean much if the version seen by your hosting clients is difficult to use. You don't want to needlessly increase your support costs due to an awkward end-user interface. That's an area in which cPanel excels, as legions of novice web site owners will attest. cPanel is simple enough for beginners to use, and includes tutorials and help files.
cPanel is in ongoing development, receiving regular updates. Updates provide bug fixes, security enhancements and new features. As a VPS client, you won't need to worry about those updates, which will be applied by your host.
Web mail and statistics are two cPanel features that will be useful to both you and your hosting clients. cPanel includes three web mail applications already installed and active, so no work is required of you. You and your clients can choose any of the web mail apps to access mail from the server through any web browser.
Statistics include the popular AWstats, which tracks details of all web site visits. AWstats can show visits to the site by hour and day, number of unique visitors, breakdown of visitors by country, and even the search terms they used to find your site through search engines such as Google. AWstats are displayed in various easy-to-read ways, including running totals and graphical charts.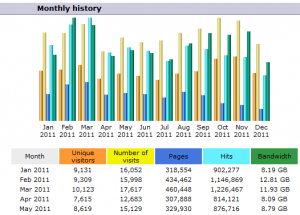 One of my favourite features is the ability to login to cPanel user my reseller or VPS password, and easily switch to the cPanel for any of my client sites with a single click. The cPanel reseller password, the same one used to login to WHM, serves as a sort of master password. Once logged in, you may jump from the current control panel to that of any of your client sites. That single login to manage multiple accounts makes life simpler for us resellers, or in fact anyone managing many domains.
cPanel helps you manage your VPS, saving you time and providing a popular, user-friendly tool for you hosting clients