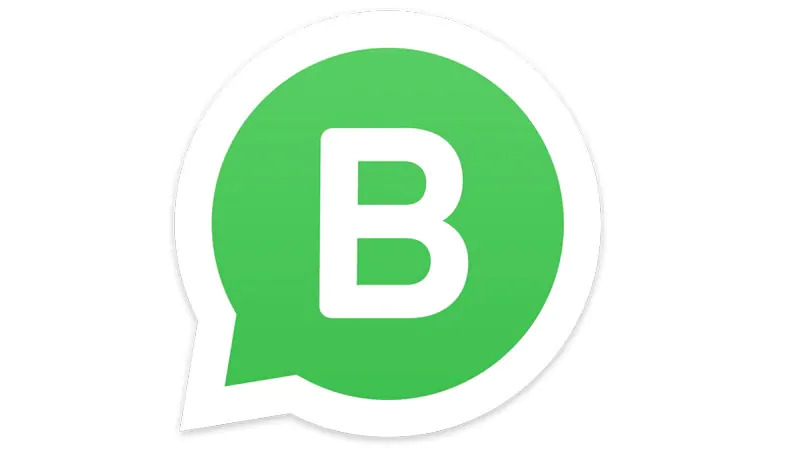 Whatsapp, the widely used instant messaging service, launched its business-centric app which is available to download for Android users. If you own a business and want to communicate with your prospective customers in an effective way, having Whatsapp Business app makes total sense, and it is free to download and use.
It is by far the most popular cross-platform messaging app in India. Globally, WhatsApp has 1.5 Billion monthly active users (MAUs) and the app processes around 60 billion messages each day. This makes it a great platform for anyone to offer business services or customer support over mobile.
As WhatsApp Business is a separate service with a different target audience, the app will ask you for an alternate mobile number, which is not the same as the one you use with the regular WhatsApp. In case you don't have another number, you can continue using your existing number, just that the personal profile will be transferred to a business profile, along with all your contacts.
You will also be given an option to migrate your chat history and groups when switching to a business account. And if you have two different numbers (one personal and other for business), you can use both WhatsApp and WhatsApp Business apps. Unlike the usual app, the business app has some extra features. So, without any further ado, let's go ahead and see how to create your business profile and look at the app features.
WhatsApp Business: How to register and set up:
The WhatsApp Business app is available on the Google Play Store for Android smartphones.
After you download the WhatsApp Business app from the Play Store, open the app and go through the initial setup process. To begin with, enter and verify your phone number via an OTP.
Next, you will have to enter your business name, which could be your shop name or company name. Do note, once created, you will not be able to change the name of your business. So, whatever you enter, has to be the final one.
After that is done, you will be taken to the app's homepage, which is similar to the regular app. You have the quick camera access shortcut on the left, followed by three tabs – chats, status and calls. On the top-right, you have the three-dot menu button, whereas at the bottom, you have the icon to start a chat.
WhatsApp Business: Profile settings and statistics:
One of the interesting bits of the app is that you can create your business profile where you can add your business details. Tap on the three-dots on the top right, then tap on 'Settings' followed by 'Business settings'.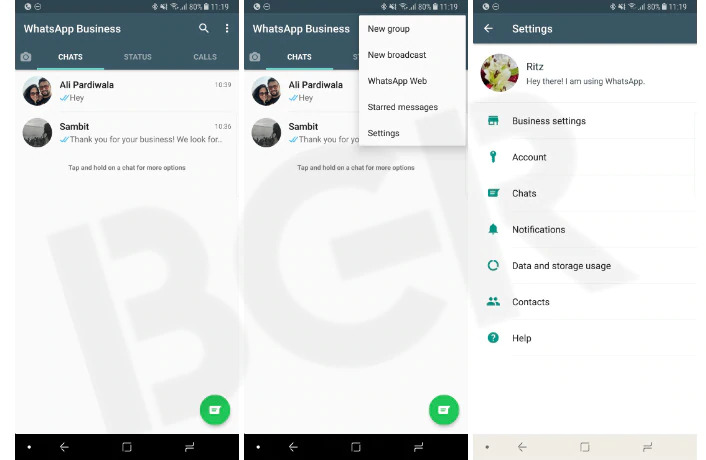 Now, in profile settings, you get to set a display image, followed by your business address. You can even pin the location on Google Maps so that it becomes easier for users to simply tap on the map and navigate to your location. Next, you also get to choose a category for your service, which could be automotive, clothing, finance, restaurant and transport among others.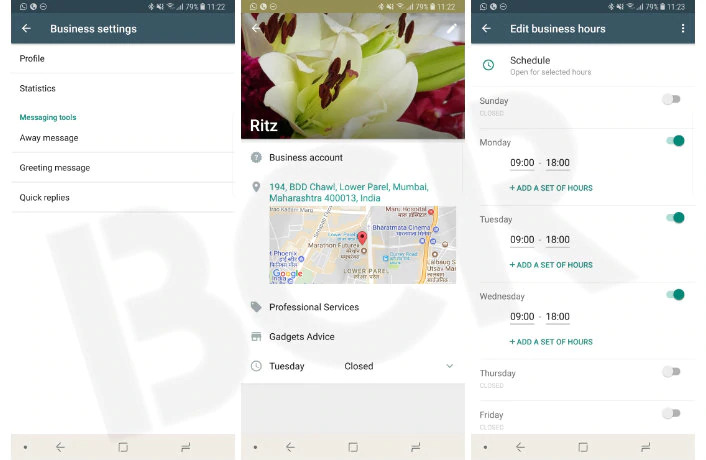 In the next section, you can describe what your business does, followed by working days and hours. You also get to add your business email address, and website. Once all details are added, tap on save on the top right. The section also includes statistics, where you can see the number of messages you sent, the ones delivered, and the ones read by users.
WhatsApp Business: Messaging Tools :
Another interesting and very helpful tool bundled with WhatsApp business is messaging tools. It can be accessed from business settings, where there are three options – away message, greeting message and quick replies. Away message can come handy when customers contact you outside of business hours (which can be defined in settings). You can also set an away message to always send when customers ping you on WhatsApp.
The second option is the customized 'greeting message' which can be used to greet the customers the very first time they contact you, or when there is 14 days of inactivity between you and the contact. Lastly, there are 'quick replies' that could make it easier for you to communicate with the customers. For instance, I can define 'brb' as a quick reply, to type out "I'll check the same and get back to you with details".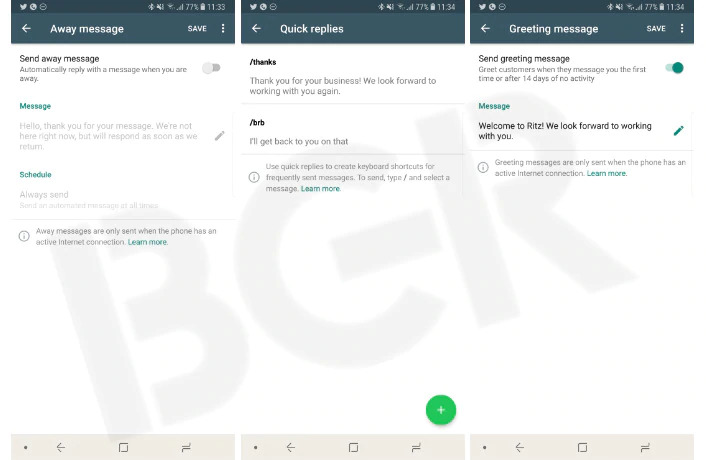 Besides these, all other features of WhatsApp Business app are the same as the regular app. You can hide your last seen, profile photo and status from everyone, or from people who are not in your contact list. All conversations are end-to-end encrypted, there is two-step verification for additional security, you can change your phone number, and there is an option to delete your account too. What's more, you can also use Google Drive to back and restore your chat history, just like you do on the regular app.
Chat labels :
WhatsApp has introduced new chat labels feature in its Business app, that lets you label chats for convenience. The chat labels include – new customer, new order, pending payment, paid and order complete, and each of them have different colors for easier recognition. You can create new labels, edit existing ones, and change colors too.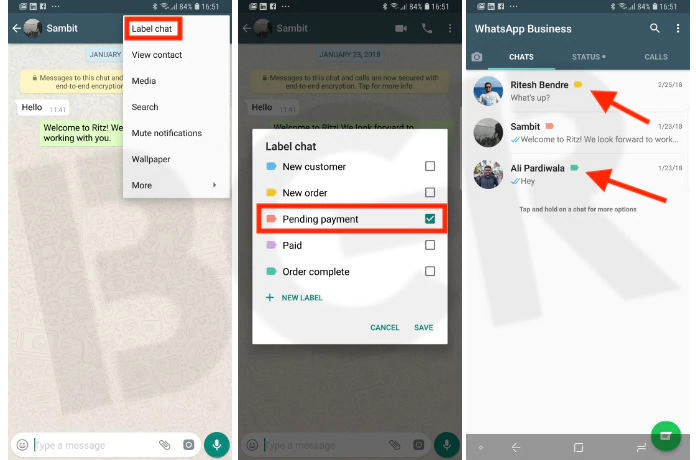 To add labels to your chat conversations, open Whatsapp and open the conversation with the user. Tap on the three dots on the top right, followed by 'Label Chats,' select the label you want to add by tapping on the checkbox and tap on save. To edit labels or change colors, open WhatsApp Business app, and tap on labels. Here, you get add button on the bottom right to add new, or you can tap on the existing one can make the changes.
Using WhatsApp Business effectively :
Once you've set up WhatsApp Business, you can use it to offer one-on-one support to your customers. It allows small business owners to quickly respond to business queries, thereby gaining new customers and turning current customers into loyal fans.
You can also send out updates about your business such as:
1. The launch of new product or service.
2. If you're running special promotions or festive offers.
3. It is the perfect way to connect with your existing customer base. WhatsApp also allows you to create broadcast lists to send out messages to a large number of people in one go, saving you the time.
WhatsApp Web :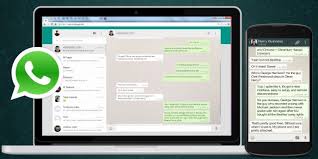 Just like the WhatsApp, the Business app also gives you the convenience to mirror the screen with your desktop browser and chat from the comforts of your keyboard. On your browser, head over to web.whatsapp.com, and on your phone, open the app, tap on three dots on top right and tap on WhatsApp Web. Scan the QR Code on the screen and the chats window will be mirrored on the computer screen.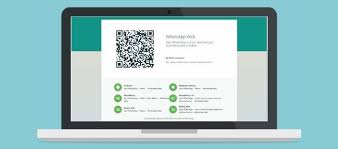 Sure, the WhatsApp Business app looks interesting and could be highly beneficial for users who have a small or medium-sized business.