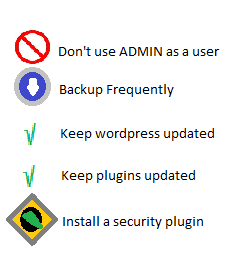 So you are new to WordPress? WordPress is a very flexible and powerful system, and it can be very overwhelming for beginners. Where to start? Well, there are many great WordPress video and tutorial websites, for example: wp101.com and wpbeginner.com. We've also compiled this list of top WordPress beginner resources. The WordPress community is very open and people love to help. Make sure you join a local Meetup and attend your local WordCamp. There are also many wonderful Facebook, and Google+ community pages.
After many years of working with and supporting WordPress we've come up with the following 5 top tips:
Tip #1 – Don't use Admin as a user: Is "admin" your username?  Then you are a prime target!  Change this immediately.  Oh, but wait… you can't change a WordPress username.  Don't fear.  First log in as you normally would.  Under "profile," change your email address to an alternate email.  (This is because you can't use the same email address for more than one username). Now create a new user choosing a unique username that is not admin, test, administrator, Admin, or root, as these are the top usernames being targeted. For this new username, you may now include your normal email address. After creating the new user, then delete your old username.  Poof!  That was easy!
Tip #2 – Backup frequently: There are many wonderful backup systems available for WordPress. See our list here. A favorite of many of our users is BackupBuddy.
Tip #3 – Keep WordPress updated: WordPress frequently releases new updates. Make sure you keep your WordPress version up-to-date.
Tip #4  – Keep plugins updated: As WordPress is updated, so are plugins to keep up with the new versions. Plugins are also updated to prevent security issues. It is very easy to update plugins. In your plugin area, just click on the update link next to the plugin that you want to update.
Tip #5 – Install a security plugin: There are many great security plugins and we recommend you install at least one. All ClickHOST customers have free access to the premium Sucuri WordPress plugin. We also recommend iThemes Security Pro plugin.