A new blog clears the way for a wide range of opportunities, including the distribution of one-of-a-kind concepts, the advertisement of a product or service, and the establishment of an additional revenue stream through participation in lucrative affiliate marketing networks. It might be difficult to get enough traffic to your site and convert your readers into paying clients, as any blogger who has done it before knows. Your chances of having success with your blog might be improved if you give some thought to how significant variables like hosting, security, and SEO will contribute to the achievement of your long-term objectives. The process of starting a new blog can be complicated, but if you follow the steps outlined in the following guide, you won't have to worry about anything going wrong.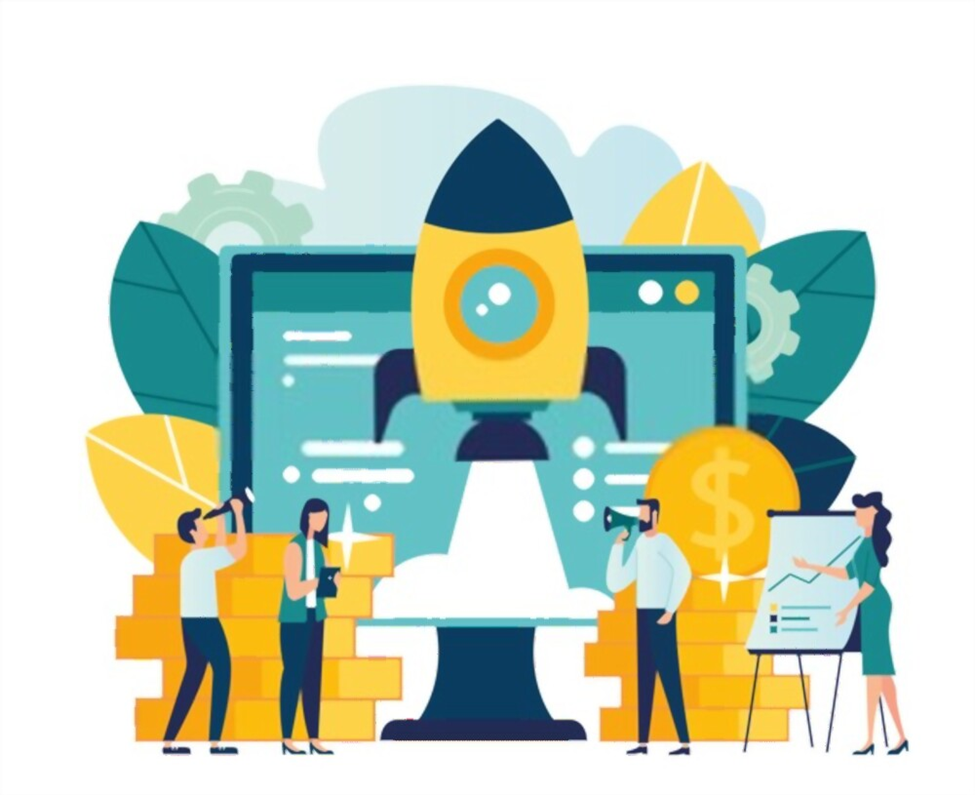 Introducing your new blog. How Do You Get Your Blog Started?
Because there are so many different platforms for blogging, beginning a new blog is less difficult than it has ever been. Simply by itself, WordPress powers 43 percent of all web pages. After you have decided on the platform that you want to utilize, the first step is to create an account for that platform. Publishing tools are normally meant to assist you in producing your initial blog entries and personalizing the appearance of your blog. You can typically find publishing tools online. You will also need to register a domain name for your blog and investigate other strategies to market your material before you can expect to see a significant increase in the number of visitors to your website.
What Makes a Blog Successful?
A successful blog needs two things:
High-quality material that is both beneficial to the target audience and keeps readers wanting more is what will keep them coming back for more. With more than 68% of brands utilizing blogging as a platform to share content, it's clear that this is one of the most important uses of blogging.
A robust SEO plan is also required for your blog in order to draw the attention of search engine crawlers, have your pages indexed in search results, and achieve high rankings in search results. A consistent flow of organic visitors to your blog is an indicator of a successful search engine optimization plan.
Define and Set Goals for introducing your new blog
You need to have a plan for your blog before you can move on with it, and one of those plans should include specific objectives. These goals will serve as a basis for your project and provide guidance as you make difficult choices about how to spend the time and resources that are at your disposal in the most effective manner. Your objectives will also serve as a standard against which you can evaluate your progress and, if necessary, make adjustments to your strategy.
Establishing Your Objectives for introducing your new blog
Create a list of specific objectives that you want to achieve with your blog.
Use data or results that can be measured if at all possible.
The following are some examples of aims that a new blog might have:
Create a blog and get it up and running within the next 45 days. You should publish a brand-new blog post once every five days and include one affiliate link for each blog post you publish.
Create a blog and update it with a minimum of three new posts within the next 30 days. Over the next 20 days, you should aim to receive at least 15 new organic visitors to each blog post you publish.
Create your blog, design a convincing About Us page to present your company idea, and produce two blog entries to promote your crowdfunding initiative during the following 20 days.
Launch your blog and make it a habit to write one blog article per week for the next thirty days. By making a free printable available, you should be able to attract at least ten new email subscribers.
Make a to-do list for yourself and keep it updated.
When you've decided what you want to do, the next step is to divide it up into manageable sections of work that you can complete on a daily or weekly basis. Make sure you arrange some time in your calendar to focus on these responsibilities!
Create a Blog for Yourself
Check to Ensure That You Have Chosen the Appropriate Blogging Platform. Spend some time exploring the various features that are accessible, as well as experimenting with the site-building tool. Does the blogging platform you use come complete with everything you'll require to get started? Since the majority of platforms provide a free trial, it is in your best interest to begin testing all of the features as soon as possible to choose whether or not you want to continue using this platform.
Check to See That Your Hosting Is Up to Standard
Hosting and website-building capabilities are typically included with blogging platforms. Try loading your site using a few different devices so you can evaluate the level of service provided by the hosting provider. It is important to have a fast-loading speed because the bounce rate of a website that takes longer than one second to load is 32% greater than the bounce rate of a page that loads in only one second. You should also pay attention to the percentage of time that your system is online.
Modify the permalink structure so that it uses simple URLs.
In the long run, ensuring that the structure of your WordPress permalinks is accurate will have an effect on a great number of different elements. If you keep your URLs straightforward, your information will be much simpler to index. Your URL structure can be simplified in the following ways:
Make sure that your URLs are brief, and organize your pages and subpages in a manner that makes sense. Put some thought into the URLs of your pages by using terms that explain what they're about. It is helpful for readers and search engine crawlers to be able to recognize keywords, so separating these terms with hyphens is recommended.
Check to See That the Categories Have Sufficient Sense
Your visitors will be able to find more content that is relevant to their trip and raise their level of engagement with your blog if you make navigation easier. The majority of today's websites are organized into five or six primary categories. You can also utilize a search box to assist readers in locating the material they are looking for, in addition to having a secondary navigation scheme within each category. When deciding which primary categories are best suited for your specialized market, it is important to keep in mind the typical path taken by a visitor as well as the information they are most likely to seek.
Eliminate Extraneous Content by Disabling Unneeded Plugins, Themes, and Widgets
Blogging platforms make available to you a variety of add-ons that may be used to personalize your website. It's possible that certain themes already have widgets and plugins by default. You should try to simplify as much as you can on your blog. Navigation will be simplified, and loading times, particularly on mobile devices, will be improved. Additionally, if there are fewer visual distractions, it will be simpler for visitors to concentrate on the content that you have provided for them.
Make sure that you've already created the core pages.
Your website needs a few essential sections so that visitors can learn more about you and your background.
If you skip over these essential sections, it will give the impression that your blog is not trustworthy.
A homepage that provides a detailed description, allowing readers to quickly identify who you are and the subject matter of your blog.
A page titled "About Me" in which you introduce yourself and explain to users why they should follow your guidance or consider purchasing the products you promote. Be careful to describe any personal or professional experiences that are pertinent, and provide photographs as confirmation of those experiences.
A page labeled "Contact" includes current information about how to get in touch with you. However, a personal blog will simply need an email address, in contrast to a corporation, which will require a phone number, a physical address, and an email address.
Don't forget to add any legal pages. You will need a page that outlines your terms and conditions, in addition to a page that outlines your privacy policies. If you plan to sell things through your blog, you should include a frequently asked questions page with information about payments, shipping, and returns.
Make Certain You Have a Complete and Accurate Affiliate Disclosure
You are required to make your viewers aware that you are using your site to offer affiliate links if you do so. The FTC has requirements about online disclosures that apply to affiliate marketing, and making these disclosures easy to find will also help you create trust with your audience. In case you require assistance, we have provided some fantastic disclosure examples for affiliate programs.
Make Sure You Follow the Best Security Practices
Experts believe that cybercriminals compromise as many as 30,000 websites every single day. The number of cyberattacks is on the rise. Using a well-known blogging platform comes with a number of benefits, but it also increases the risk of your blog being attacked because certain cybercriminals focus their attention on exploiting particular flaws that are inherent to these systems. You can safeguard your blog if you immediately make strengthening its security one of your highest priorities.
You can configure your settings after adding your domain to Cloudflare.
One example of a content delivery network is Cloudflare. It is a service that stores cached versions of websites on a network of servers that are spread out throughout the World in various geographic regions. The fact that visitors can access a cached version of your blog that is hosted on a nearby server is one of the perks. This should result in an increase in the loading time of your website. Cloudflare is also capable of filtering traffic requests and protecting your website from malicious actors, such as those who launch distributed denial of service (DDoS) assaults. DDoS attacks are a sort of attack in which a huge number of requests force a website to become inaccessible. You may also make your blog more secure by modifying the settings on your site to enable secure connections (SSL) and HTTPS. You should install a firewall if the platform you use for blogging already has one, and you should think about adding extra security plugins if they are available.
Strong Passcode:
If criminals obtain access to your login credentials, they will be able to take control of your blog. They are able to delete your material and even edit some of your links in order to divert readers to pages that contain dangerous code. If you select a robust password for the administrator account on your site, you can protect it from this kind of attack. Instead of employing a long string of single characters and numbers that will be difficult to remember, the FBI suggests using lengthy passphrases that consist of a random selection of words. This is because longer passphrases are easier to recall.
Additional Administrative Accounts Have Been Cleaned Out
During the time that you were working on your blog, did you create any other admin accounts? Go to your dashboard to look over the many admin accounts that are currently active and eliminate the ones that aren't necessary for you.
It Has Been Made Available with An SSL Certificate
An SSL certificate can be used for either of the following:
Your website's identification will be verified as a result of this.
When people access your website, it enables the server to establish an encrypted connection with those users.
Installing an SSL certificate on your blog will protect the data that visitors provide, including the information they provide when making a purchase or filling out an online form. This protection extends to any data that visitors provide on your blog.
In addition to this, it prohibits attackers from changing the content that is shown to visitors when they attempt to intercept it.
Implement Industry Standard SEO Best Practices
By optimizing your brand-new blog, you will be able to reach out to new potential readers on an ongoing basis, drive organic traffic to your website, and target the appropriate audience. If you make search engine optimization (SEO) a priority from the very beginning, it will help you generate better long-term results.
Set up an on-page search engine optimization plugin such as Rank Math.
Rank Math is a free WordPress plugin that can be added to your site to measure many SEO factors and provide advice for optimizing your content. You can get this plugin by going to the Rank Math website. It is an excellent tool for novices, and it saves you time when optimizing your content by automatically recommending best practices that produce results. Additionally, it helps you save time optimizing your website.
Check that all of the posts on your blog include the appropriate E-A-T signals.
Create an interesting About Us page so that people may learn more about your company. Include as many specifics as you can.
Give the reasons that support your claim that you are an expert on the subjects you cover. You have the option of outsourcing the writing of your blog to individuals who are professionals in the field.
Always make sure your content is up to date and post on a consistent basis.
Make use of reputable sources while adding inbound links and supporting your assertions with them. Watch out for your reputation on the internet, especially if your blog also functions as an online store.
Check to See That All Posts and Pages Adhere to the Appropriate SEO Standards
The following checklist will assist you in ensuring that your material has been optimized in the appropriate manner prior to the launch of your new blog. Additionally, you can use this list when adding new posts, which are as follows:
Your titles should capture the attention of the reader while remaining under sixty characters in length. If Google truncates the names of your blog posts, potential readers may choose to look elsewhere. To give people an idea of what they may expect to discover on your site, you need to have a meta description that includes powerful keywords. Make sure that your entire material, including the headings, uses these focus keywords. You can receive an on-page SEO score by using one of the plugins that are available. These plugins are useful tools that can optimize the copy on your website, as well as the headings, links, and other aspects.
Make a Sitemap, and then upload it to the Search Console with the corresponding Link.
One way to think of your sitemap is as a directory that lists everything that is on your website. Visitors will not make use of it, but search engine crawlers will refer to your sitemap in order to locate all of your pages and files and comprehend the connection between them. You can produce this file with the help of a sitemap generator and then upload it to the Google Search Console so that the search engine can begin indexing your content.
Make Sure That the Speed Is Optimized Correctly
The rate at which your page loads is an important consideration. If it takes too long for your material to load, users will click away, and Google will take this into consideration when determining search engine rankings.
Develop a Terrific Section of Content
The next thing you need to do on your way to establishing a new blog is to get the ball rolling with the process of content development. It is essential, when producing content, to keep your audience and the goals they have in mind. This will allow you to generate content that is beneficial to your readers and will help you better connect with them. You ought to also work on your brand's identity and figure out the manner in which you want your tone and style to come across. Finding the proper tone for your content can help you stand out from the competition while also making it more engaging to the reader.
Conclusion:
Having clearly defined objectives for your project increases the odds that you will be successful. The next step is to learn about the many blogging platforms out there so you can choose the one that is most suitable for your needs. After that, you may focus on improving your blog's foundational pages and making it more secure and search engine friendly. The next stage is to create content for your blog. Once you have enough articles published to attract readers, you can introduce your site.