When you're ready to launch your company website officially, you should begin investigating which type of website hosting would be most appropriate for your company's needs as soon as possible.
There are many possibilities available, not just in terms of server companies but also in terms of the hosting you will require.
Whether you run a small or large company, you have a wide range of web hosting options at your disposal. If you're thinking about the future and want more power, flexibility, and control, dedicated hosting is the way to go. With a dedicated hosting service, you have complete control over all of the server's resources.
What is dedicated hosting-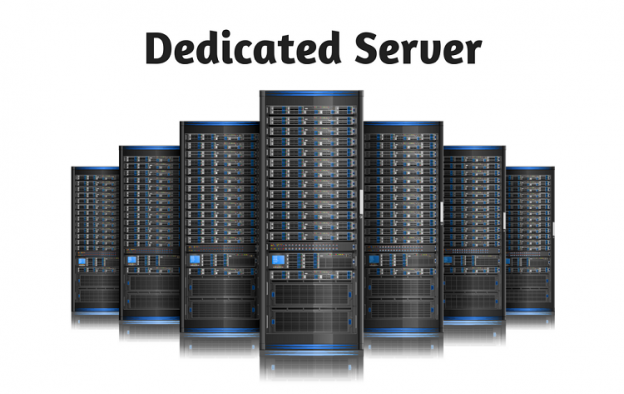 This website hosting solution allows customers to rent out a full server. Everything from bandwidth to storage capacity to RAM is included in this category. Additionally, dedicated servers allow you to have complete control over your software and security systems, making them incredibly flexible. For one thing, you can choose your operating system when you buy a dedicated server. There are both managed and unmanaged dedicated server options. There is a "managed" version that is run by the web hosting company. Unmanaged dedicated server hosting, on the other hand, allows you complete control over the entire process, from the first setup to the final backup.
When you use shared hosting, you are essentially sharing server space with other websites; however, when you use a dedicated server host, the server on which your website is hosted is exclusively yours.
Although the cost of a dedicated server will be higher than the cost of shared hosting, numerous benefits outweigh the additional expense.
Managed dedicated-
Organizations that have expanded to the point where they require resources, security, and performance that dedicated servers can provide are typically extremely busy. Eventually, as your company expands, you will realize that you cannot handle everything yourself. Managed dedicated plans provide you with the ability to have your software and security settings upgraded installed and to have expert administration services provided to you.
You won't be able to be an expert in every facet of your company's operations. Managed dedicated hosting solutions can free up your time so that you can devote it to more important company concerns. Managed server hosting provide your business with the benefit of having a team of skilled IT experts on hand to assist you whenever you require upgrades or assistance. Organizations that use managed plans can provide investors, partners, and employees with the certainty that their information technology systems are not only in good working order but also in good hands.
Who should opt for dedicated hosting?
If you own or manage any of the enterprises listed below, you may require a dedicated server to accommodate your needs.
Midsize to large firms with 500 or more people that manage large amounts of data are the types of organizations that can profit from dedicated hosting. If your company has databases, a huge inventory/supply chain infrastructure, and hundreds of e-commerce transactions each hour, you will need a dedicated server to accommodate these requirements.
Dedicated servers are required by system administrators, developers, and information technology businesses that require the ability to customize their server environment to their specifications and run resource-intensive web applications such as content management systems, custom software, API-driven applications, software as a service, and e-commerce sites.
Agencies and web hosting resellers require dedicated servers to host their clients' websites. A dedicated server enables them to handle all of their clients from a single location, rather than managing many hosting accounts with various service providers.
What are the benefits of dedicated server hosting for you?
If you choose a managed or unmanaged dedicated server hosting plan, you will see a considerable increase in your organization's productivity. Here's are its benefits-
1. Performance of the Highest Quality

If you're looking for a secure, dedicated platform for your website, dedicated servers are the best option. As a result, it is much faster and more precise than other options for web hosting. Dedicated server hosting is the best way to ensure that your website will be up at all times. This function allows you to increase your website's traffic while also enhancing your SEO ranking. This is a huge benefit.
If you're looking for a high-performance web hosting service, a dedicated server is a logical choice for your needs.
2. Improvements in Security

With a dedicated server, you have complete control over your data protection. Don't take the possibility of experiencing a crucial failure as a result of the shortage of security measures implemented by another customer.
You can choose which operating system (OS) to use and when to install fixes for that operating system.
Furthermore, the security protocols used by dedicated hosting plans are PCI certified, allowing you to process and store sensitive data safely and securely.
Your website will be protected from DDoS attacks and other cyberattacks as a result of this high-grade commercial protection.
3. Flexibility
What if you could customize your server's CPU, RAM, disc space, and software to meet your exact needs? Server hosting on a dedicated server allows you to do all of this and much more. Customers that opt for shared hosting are limited to using only the pre-installed applications, software, and operating system on the server itself. A dedicated server, on the other hand, provides businesses with a server environment that can be tailored to their needs. You have more control over the configuration of your server because you can choose the platform and software of your choice.
4. Dependable bandwidth
In order to make sure that your software, programs, and applications run fast and efficiently, you need reliable bandwidth for your website. Better quality means happier customers who are more likely to come back and tell their friends about your website's great features. With a dedicated server, you get the same amount of bandwidth, no matter how much traffic your website is seeing. Because you won't be sharing your bandwidth with other sites, your site will load much faster than it would otherwise.
A hassle-free and effective website is made possible by the balanced bandwidth provided by a dedicated server. Because it is designed to manage spikes in site traffic, a dedicated server is an excellent choice for you.
5. The Unique IP address
The advantage of dedicated server hosting is that you get your unique IP address. You share not only server space and resources with other websites, but you also share the same IP address when you use a shared hosting plan. This has the potential to be a security and search engine optimization problem. This is because a spamming server tenant might expose you to similar attacks, cause your website to load slowly, and negatively impact your SEO ranking.
These potential issues will not arise with a dedicated hosting server because your server will be dedicated solely to your needs. You will be assigned a unique IP address. In addition, this is advantageous for large corporations that operate an e-commerce website and require SSL for credit card processing.
Conclusion–
In short:
When is it appropriate to consider purchasing a dedicated server and a managed hosting plan for your website?
Consider a virtualization solution when you require more storage, the highest response time, and enterprise-level security. When you require complete access to and control over a server and all of its resources, you should use SSH. When you require experienced assistance with your website and applications at any time of day or night, seven days a week.
If your company requires a high-performance hosting plan, you can find out more about dedicated servers from WebHostingWorld by visiting our website.